Weston 10-Tray Dehydrator White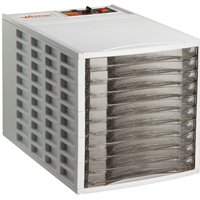 Price

$299.99

U/M

/ EA

Quantity Available

Part Number

3221124
Dehydrate meat, fish, vegetables, or fruits with this food dehydrator.

- Easy natural snacks 10 tray food dehydrator makes delicious natural snacks like jerky banana and apple chips fruit roll-ups and more without the hassle great for keto or paleo diet!

- Both easy to use and easy to clean, this food dehydrator helps your foods retain their natural flavors without additives or preservatives!

- This unit's 5 1/2'' ultra-quiet fan circulates air from the 600W heating element back to front through each tray for consistent results, eliminating the need to rotate trays for even dehydrating.

- Plenty of room on 10 nonstick trays measuring 14 25" x 10 75" each give you about 10 square feet of drying space"

- Powerful heating element the 600 watt food dehydrator offers plenty of power

- Adjustable thermostat pick the temperature you need adjustable thermostat ranges from 84 to 155 degrees Fahrenheit

- This food dehydrator's solid ABS thermoplastic construction makes it lightweight and compact. Not recommended for commercial use.
Colour Group:

White
Length:

21"
Width:

15.4"
Height:

15.4"
Model:

75-0201-W